Volunteers for a new community project
Period:

16 February 2017 - 31 March 2017

Status:

Closed

Audiences:

Everyone

Topics:

Community and living

Type:

Public
Do you live in the areas shaded blue on the maps below? Do you want to have an input into the factors affecting your community?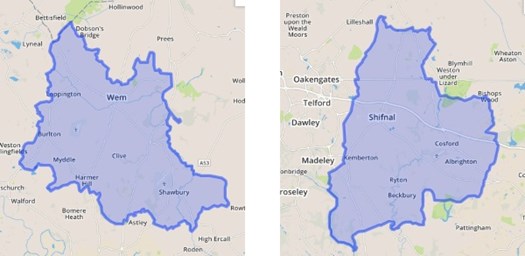 If you answered yes to the above questions, we are looking for volunteers just like you for the Integrated Community Management project!
Integrated Community Management, or ICM, is a way to support services in the area, such as the local Councils and Police, to work together with communities to identify and respond to local concerns and issues. As part of this project we are keen to understand how local people feel about the area where they live and the services they receive there. So, we are now looking for residents to take part in completing a quarterly perception questionnaire to capture community feedback and establish if communities notice any changes in the ICM areas.
If you're interested in being part of this, please provide a few basic details using our online form and we'll get back to you.
Data protection
Information collected in our surveys will only be used by us (Shropshire Council) to inform the immediate and future provision of our services. The information you provide will be kept confidential in accordance with our
Privacy Policy
. It will not be shared outside of Shropshire Council. Information collected via our online surveys (hosted on the Surveymonkey website) will be stored on SurveyMonkey's servers in the United States of America and SurveyMonkey gives an undertaking never to disclose the survey questions or your responses to others without permission.