Armed Forces Outreach Support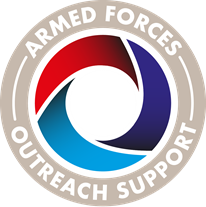 Working cohesively as one team to support military personnel, veterans and their families.  Supported by:-
RBL
SSAFA
Combat Stress
Walking with the Wounded
Veterans UK
Blind Veterans UK
Also supported by a number of local organisations and businesses.  
Currently, we are running sessions at the following venues.  Please feel free to pop along and meet the teams.
Palmer's Cafe (the old Baptist Church), Claremont Street, Shrewsbury, SY1 1QG - first and third Monday of each month from 10am to 1pm.
RJAH Orthopaedic Hospital (Robert Jones & Agnes Hunt Orthopaedic Hospital), Oswestry, Shropshire, SY10 7AG - every Thursday from 12 noon till 4pm.
One Royal Irish Community Centre, Ternhill, Market Drayton, TF9 2HB - first Tuesday of every month from 10:30am till 12 noon.
If you are unable to make any of these sessions and would like further information, please don't hesitate to contact Sarah Kerr, Armed Forces Outreach Support Co-Ordinator at sarah.kerr@shropshire.gov.uk or 07990 085 656.