Name the gritters 2020!
Period:

18 November 2020 - 25 November 2020

Status:

Closed

Audiences:

Everyone

Topics:

Highways maintenance

Type:

Public
Vote now!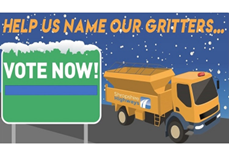 In October we asked people to help us name our fleet of 25 gritters. We had a brilliant response, with more than 750 suggestions made.
Five of the gritters have already been named: Zac Oliver, Jack Edwards and Charlie Desmond were named in 2018 and will keep their names. This year we have already chosen to name gritters after The Harry Johnson Trust and Percy Mullaly. That leaves 20 names still to be chosen.
We've considered all of the suggestions and have drawn up a shortlist of 50 names. Now we need you to vote for your favourites to help decide the winning names.
Click on the 'How to get involved' tab to vote.
How to vote
The 50 names have been placed into five groups of ten names. We simply want you to vote for up to four in each group. The four most popular names in each group (20 names in total) will then be given to our gritters. Voting opens at 10am on Wednesday 18 November and ends at midday on 25 November., with the winning names announced shortly afterwards.
Over to you... »
Data protection
Information collected in our surveys will only be used by us (Shropshire Council) to inform the immediate and future provision of our services. The information you provide will be kept confidential in accordance with our
Privacy Policy
. It will not be shared outside of Shropshire Council. Information collected via our online surveys (hosted on the Surveymonkey website) will be stored on SurveyMonkey's servers in the United States of America and SurveyMonkey gives an undertaking never to disclose the survey questions or your responses to others without permission.