Recycling and Rubbish FAQs
What day is my waste collected?
To see a calendar showing household rubbish, garden waste and recycling collection dates for your specific property visit shropshire.gov.uk/binday 
What can I put in my bins and recycling boxes?
I produce lots of rubbish, can I have a bigger bin?
Generally no, we provide a standard 240 Litre wheeled bin for general household rubbish. We make an exception for families which have 6 or more permenant residents in the house by allowing a larger (360 Litre) wheeled bin in these cases only. To apply for this you need to contact us directly. You will need to provide evidence of household size and be willing to submit to a bin contents analysis to first prove that you are recycling everything you can. 
Can I have a smaller bin?
Yes. We are happy to exchange your refuse or garden waste bin for smaller (140Litre) version. Contact customer.service@shropshire.gov.uk to order 
I have a large garden, can I have an extra garden waste bin?
We provide one garden waste bin per household. If you produce lots of garden waste the best thing to do is compost it at home. You can rent one extra garden waste bin from us but we charge £65 a year. You can also take extra garden waste to our household recycling centres. 
Why can't you collect black plastic for recycling?
Unfortunately we cannot accept black plastic at present because the sorting technology used to separate the plastics into their different types uses infra red light and so it cannot detect black. 
Why can't you collect shredded paper for recycling?
We will collect small amounts of shredded paper for composting with your garden waste. Please do not add shredded paper to your recycling boxes though to prevent litter and because our paper recycling mill prefer not to take shredded paper. 
Where can I recycle batteries?
Household batteries can be recycled at most supermarkets and at our Household Recycling Centres (NB - car batteries should be recycled separately).
Alternatively, you can now put them out with your normal household recycling. Simply seal them in a clear plastic bag and put the bag out with your recycling boxes, making sure it's somewhere the collection crew will be able to see it.
What recycling issues must I consider if I am building new homes?
It is essential that you make provision for waste and recycling collections - in particular providing sufficient space to store waste and enabling access for large collection vehicles. View more detailed information. 
Do I have to remove the plastic window when recycling envelopes?
No you don't. This is a common myth about envelope recycling but it is really not necessary as our paper mill can cope with small amounts of non critical contamination like these. 
Where does my recycling go?
We collect thousands of tonnes of recycling every year and people often ask what happens to the material.  As a signatory to the national End Destinations of Recycling Charter we're keen to advertise what happens to your recycling to show that it all gets recycled into useful items and mostly in the UK.  So your recycling is helping to supply UK manufacturing and supporting jobs in industry.  For example:
| Resource | What happens |
| --- | --- |
| | Paper goes to UPM Shotton paper mill near Chester where it is pulped and turned into newspapers. |
| | Glass goes to Glass Recycling UK where It is crushed and melted down to make glass bottles. |
| | Cans goes to Morris Metals And Novelis where they get shredded and melted down to make new cans, fridges, car parts, bicycles and even aeroplanes! |
| | Plastics go to Veolia's Rainham PRF in Essex. They get separated into different types which can be used to make fleeces, water butts, drainage pipes and more plastic packaging. |
| | Garden waste goes to local farms in Shropshire.  It is shredded, composted and spread on the land as a soil improver. |
| | Textiles go to JMP Wilcox. Wearable items get sold on in charity shops across the UK and in developing countries. Items not fit for re-use are shredded to make cushion stuffing. |
| | Wood goes to A&A Recycling Ltd in the West Midlands. It is sorted by grade. Good quality wood can be recycled at to make chipboard. Lower grade material is used to create green energy. |
| | Cardboard goes to Oswestry Waste Paper in Shropshire. It is baled and sold on to various reprocessors including Smurfitt-Kappa paper mill in Birmingham who make cardboard packaging. |
| | Tyres go to DME in Staffordshire. They can be shredded down and used to make childrens playground surfaces. Some are also used as a fuel in the cement making industry helping to reduce fossil fuel use. |
| | Batteries go to G&P Batteries Ltd in the West Midlands. Once sorted they are sent to metal smelting facilities in the UK and France. |
| | Fridges go to Aquaforce in the West Midlands. They have to be treated carefully to remove the CFC's and then the metal and foam can be recycled. |
| | TV's go to Recycling Lives in Preston and Veolia in Bridgnorth. They are carefully dismantled to avoid hazardous material and stripped for components. All parts of the TV can be recycled including the glass screen |
| | Small electrical appliances go to EMR in the West Midlands where they are shredded to allow plastics, metals and glass to be separated for recycling. |
| | Hardcore & rubble goes to Tudor Griffiths in Shropshire to be crushed and seived to produce a recycled gravel. |
| | Oil goes to Oil Salvage Ltd in Liverpool where it is cleaned up and used to produce a low grade heating fuel which is used to heat UK factories. |
| | Car Batteries go to G&P Batteries in the West Midlands. They first remove and neutralise the battery acid, to allow the valuable lead to be extracted for recycling. |
Where can I order caddy liners from?
You can purchase caddy liners online from local retailers and supermarkets.
Please ensure they display the seedling logo below to ensure they are compostable.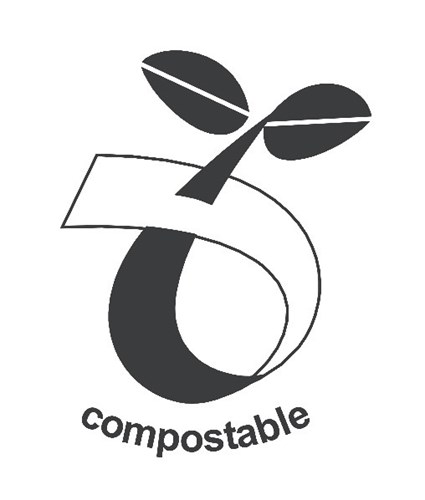 Can I put Tetra-paks in my blue bag?
Tetra pak cartons are a composite material and are not currently collected kerbside in Shropshire, but there are recycling facilities at many bring bank sites and all five household recycling centres for Tetra-pak. These are then collected by another organisation which transports it to a paper mill in Yorkshire for further processing.
An organisation called Waste and Resources Action Programme (WRAP) works with governments, businesses and local authorities to reduce waste and actively encourages packaging companies to redesign their products to reduce non-recyclable materials and thereby achieve better recycling rates.