How to use Roadworks.org
When you have the roadworks map open, to search and navigate you use the box in the top right corner:
To zoom in to a specific location, type it in the box and select the option you want from the drop-down list that appears. You can enter a street name, town, parish, ward, district or local authority. If you want to zoom in even further, you can double click on the map or use the plus and minus buttons in the bottom right corner:

Clicking on each of the three icons above (the arrow, clock and calendar) allows you to narrow or extend the date and time range that you wish to search by (clock icon represents time, calendar icon represents dates).
You can also filter the map to show only the information you're interested in. You can do this by clicking on 'Customise my map' and ensuring that there is a tick next to the items you want to view. Clicking the box on the left will make the tick appear and disappear: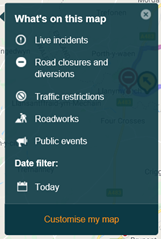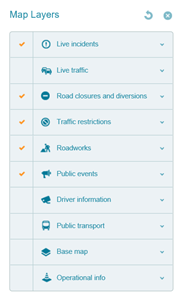 The legend below is useful to use to be able to identify what type of works, activity or obstruction each of the icons displayed on the map relates to:

Clicking on an icon will open an information box that provides more detail about the activity, for example who is responsible, dates and a description of the works:
Clicking on an icon relating to Shropshire Council works (depicted by a 'men at work' icon as per above legend) will open an information box that not only provides more detail about the activity, but also allows you to submit an enquiry or sign up to receive email alerts relating to those specific works: