BeeU service - feedback
10 October 2018
Last updated at 10:08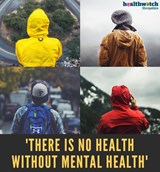 Have you used any of the following services or tried to get access to any of these services for a child or young person...?
...BeeU Service – CAMHS, BEAM, KOOTH, HELIOS
Healthwatch Shropshire would like to hear from young people, their families and people who work with them about accessing mental health support in Shropshire. This is a great opportunity for young people, parents, carers and professionals to provide important feedback on their experience of the BeeU Service. Please get in touch and share your story anonymously... 
Your voice counts!