Looked-after children
Shropshire Virtual School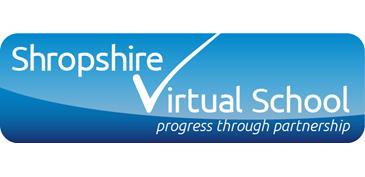 What is a Virtual School?
The Virtual School acts as a local authority champion to promote the progress and educational attainment of looked after children (also referred to as LAC), so they achieve educational outcomes comparable to their peers. Ensuring that the looked after children of Shropshire receive a high-quality education, is the foundation for improving their lives.
A Virtual School does not exist in real terms, or as a building. Children do not attend it - they remain the responsibility of the school at which they are enrolled. The Virtual School is a team of professionals which has been created for the effective co-ordination of educational services for LAC at a strategic and operational level.
What does a Virtual School do?
Influence policy and develop and improve services for looked-after children. 
Promote individual pupil's achievement and wellbeing.
Provide advice, support and training to professionals, schools, colleges and institutions.
Facilitate access to specialist services.
Provide access to professional advice and guidance on education, training and employment.
Provide additional opportunities for out-of-school learning and leisure.
Facilitate access to early education and childcare.
The Virtual School team are committed to, and passionate about, achieving the best possible outcomes for Shropshire's children in care.  The Virtual School supports children in the care of Shropshire Local Authority whether they are living in Shropshire or living in another part of the country. They are their corporate parents, and in that role, serve Shropshire's children in a number of ways. 
The Virtual School will:
| | |
| --- | --- |
| Promote | High aspirations and excellent educational outcomes |
| Support | Children and young people, carers, schools and settings |
| Challenge | Anyone who does not deliver on their aspirations |
| Celebrate | All their successes |
The Virtual School Team
The Virtual School will promote and champion the specific needs of children in care, and work to ensure professional support is joined-up and effective.
The Virtual School acts as a central contact point for any queries from schools and other professionals regarding the education of our children in care and can be contacted via email at virtualschool@shropshire.gov.uk or via telephone on: 01743 250124.
Each child has an education link within the Virtual School, putting the needs, perspective and voice of the young person into the heart of the work.  The educational outcomes for all children in the care of Shropshire Local Authority are monitored, wherever they are placed, and the Virtual School will work closely with other professionals, together with parents and carers, to ensure that children and young people receive the best possible education. The Virtual School team endeavour to enable Shropshire's LAC to get the support they need to progress and achieve, monitoring the electronic Personal Education Plan process (ePEP) as a means of pulling together quality Personal Education Plans.
The Virtual School team provides ongoing support to designated lead teachers for LAC in schools, to ensure they are skilled, knowledgeable and competent in working with children who have suffered loss and trauma, and understand the barriers to their learning and how to overcome them. The Virtual School staff also work closely with schools, together with other professionals such as the SEN Team, Education Access Team, School Admissions, Educational Psychology Service, social workers and independent reviewing officers, to identify, support and maintain positive educational placements.
The Virtual School Headteacher
The Headteacher's role is to ensure clarity of vision, ethos and strategic direction of the Virtual School in supporting Shropshire Local Authority in its corporate parenting role. The Virtual Headteacher ensures that resources are utilised to best effect and have maximum impact on outcomes for pupils.
The Headteacher also leads and manages the work of the Virtual School and has an overview of the achievements of all children in the care of Shropshire Local Authority. The Headteacher will support pupils, schools and staff and will challenge and be challenged on behalf looked after children.
Personal Education Plan (PEPs)
The Virtual School team work with social workers and designated lead teachers in schools to ensure that termly quality PEPs are in place. A quality PEP will include the young person's views, attainment and progress information; SMART (Specific, Measurable, Achievable, Realistic and Time limited) targets linked to learning and where appropriate, details regarding Pupil Premium spending linked to improving academic outcomes.
A Personal Education Plan forms an essential part of each child's Care Plan and forms part of the child's official school record. Schools and the Local Authority have a shared responsibility for ensuring the PEP is a living and meaningful document. The PEP is a vital document because it provides a collective memory about a child's education. When used effectively, the PEP improves the educational experience of the child by helping everyone gain a clear understanding of the teaching and learning provision necessary to meet the child's educational needs. This is especially important at any transition points such as moves between schools and the transition between school and college, or other post 16 education or training provision. Successful completion of a good quality PEP will release Pupil Premium +   funding for the school to spend on improving educational outcomes for the child or young person.
For further information on ePEP, please watch the ePEP Online training video.
Pupil Premium for Shropshire Looked After Children
For information on the use of Pupil Premium and how it can be used to effectively narrow the gap in attainment and improve outcomes for our children please see the latest policy document.
Previously Looked after Children
The Virtual School can give advice and guidance to schools and parents both directly, and through sign posting to other services.  We offer a rolling 3-level programme of Attachment training, delivered by Shropshire Education Psychology Service in order to enable school staff to work effectively in school, with any child who has suffered early childhood trauma and attachment difficulties.
For Further information please use the links below:  
Other authorities' looked-after children
Shropshire has a high population of looked-after children placed from other authorities. If you're considering placing a child in Shropshire with a statement of SEN/education health and care plan (EHCP) it's essential that early contact is made with the SEN Team to establish that the appropriate type of educational placement can be offered. School placement should be considered within the care plan, and therefore an appropriate school placement should be identified prior to moving the young person.  
We're an inclusive authority, therefore most pupils attend the school most local to their home address, but for children with significant special educational needs there's limited specialist provision.
The SEN Team and the virtual headteacher for Shropshire liaise closely in relation to admissions of looked-after children.