Festival of Ageing
Event details
Price:

Free

Venue:

Shrewsbury Town Football Club

Audiences:

Older people, Voluntary sector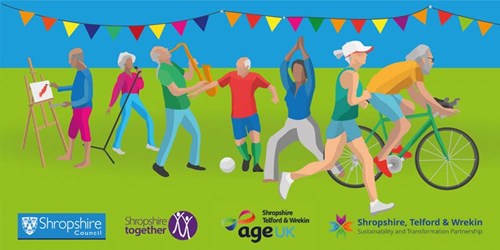 We're delighted to invite you to our one-day Shropshire Festival of Ageing, on 15 October 2019 at Shrewsbury Town Football Club. This is an open and free event for the public, the voluntary and community sector, businesses and health and care services across the county.
A range of organisations from across Shropshire have come together to create a day to celebrate older people (but all ages are welcome), to provide information from inspirational and internationally renowned speakers about the science of ageing, and the latest thinking on what keeps us well. There will also be taster sessions of local activities for participants to try - locally available activities that we know are good for our wellbeing.
An aspiration of the day is that people feel they have been able to take part in something that interests them, from art and singing to walking football and yoga (see below for full schedule of activities). We also hope that the day increases recognition of the valuable role older people play in our communities, as well as an improved understanding about what keeps us well as we age.
There will be a 'marketplace' of voluntary and community sector opportunities, public services, and local community activities. People will be able to browse the market place to learn how to get involved, from partaking in local activities to volunteering and connecting with people near to home. At the marketplace, people will also be able to ask questions and learn about how health and care service are changing, and input thoughts and ideas. What can be expected from the day?
Ability to take part in a range of activities (see list in the programme below)
Learning about what's available in our communities
Learning about the science of ageing and what we can do to keep well
Ability to have your say on changes to health and care
Music, art, inspiration
If you or someone you know would prefer to book by telephone, please call: 0345 678 9077. This is a Shropshire Council number where your details will need to be taken to book you on to the event. This information will be stored securely on the council system, and only used for the purpose of booking you on to this event.
Montgomery Waters Meadow, Football Ground, Oteley Road, Shrewsbury, Shropshire, SY2 6ST